28 Feb

Sloppy Kachema Meatball Bake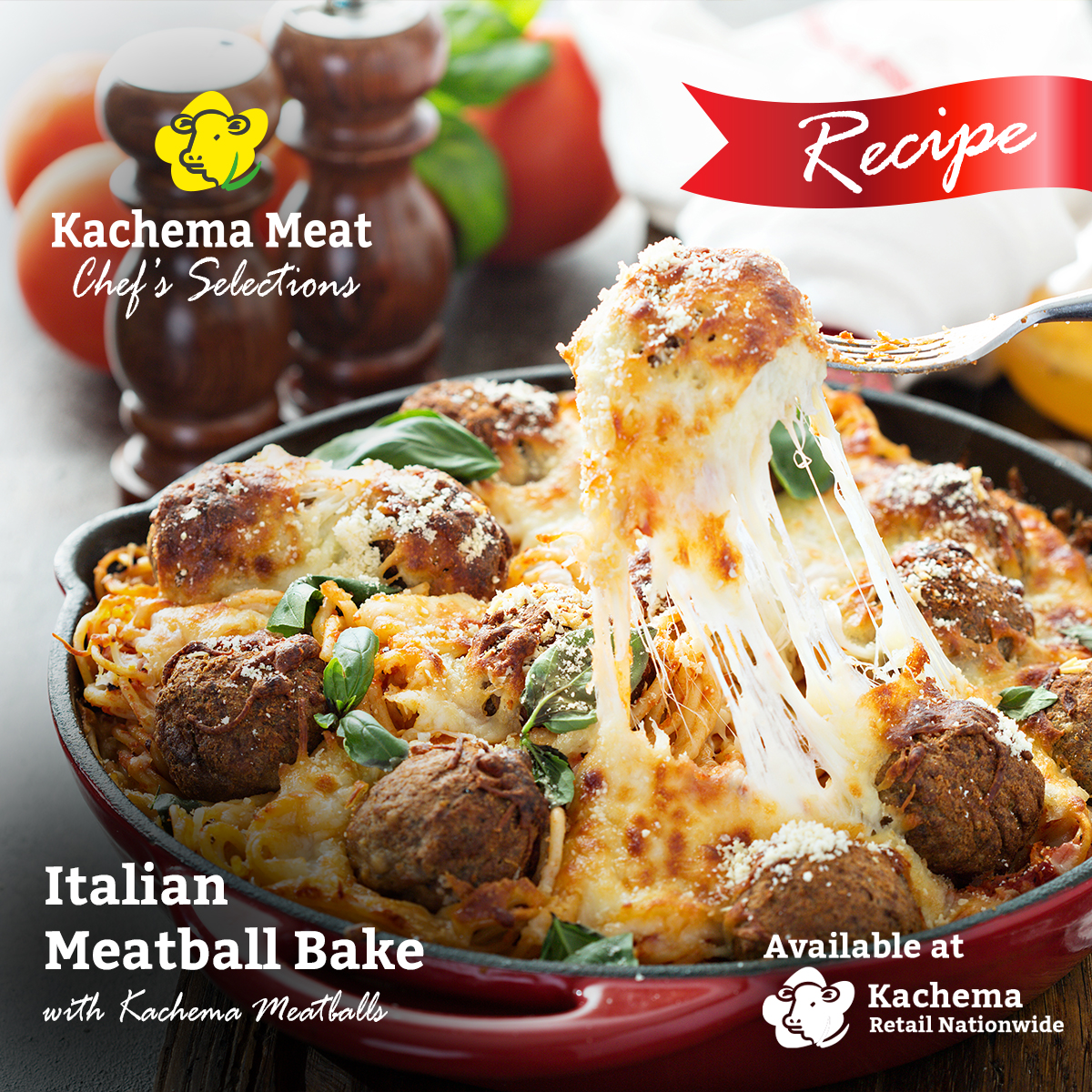 Take our already amazing meatballs to a new level in this cheesy bake topped with melting mozzarella. Serve with buttered crusty bread for the whole family to tuck into that cheesy goodness. You can find our amazing meatballs at any Pick n Pay.
INGREDIENTS
Olive oil 3 tbsp
Ready-made beef meatballs 24
Onions 2, finely chopped
Carrot 1, finely chopped
Celery 2 sticks, finely chopped
Garlic 3 cloves, crushed
Tomato puree 600g
Tomatoes 300g, roughly chopped
Worcestershire sauce 2 tbsp
Paprika 1 tbsp
Tomato source 3 tbsp
Red vinegar 3 tbsp
Brown sugar 50g
Mozzarella 250g
PREPARATION
Step 1.
Heat 2 tbsp of olive oil in a large, deep frying pan and, in two batches, fry the meatballs on high until browned all over. Scoop into a large baking dish.
Step 2.
Add another 1 tbsp of olive oil to the pan along with the onions, carrot and celery, and cook gently for 15 minutes or until soft. Add the garlic and fry for another 2 minutes.
Step 3.
Tip in the tomato puree, chopped tomatoes, Worcestershire sauce, paprika, tomato source, vinegar and sugar, with lots of seasoning. Add 200ml of water, then bubble for 20 minutes until the sauce is rich and thick. Meanwhile, heat the oven to 180C.
Step 4.
Pour the sauce over the meatballs. Tear over the mozzarella and bake for 20 minutes or until the meatballs are cooked through and the cheese is bubbling.
Step 5.
Serve with buttered crusty bread.